At Tuzi, we are all looking forward to outdoor exercises now that spring is here and summer seems just within reach. Does anyone want to skip to summer? Maybe we can help with our latest promotion: free cable speed rope with any purchase $25 or over.  We want you to try our premium cable speed ropes. These are not just your average childhood jump ropes. Our portable cardio machines are made from premium steel cables and reinforced with a tough insulating coating to give you optimal durability and speed. Did we mention that the length can also be easily personalized?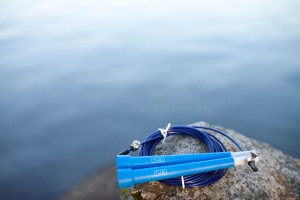 Follow these steps for the promo:
1) Put in your order for anything $25 or over
2) Please ADD your choice of free cable speed rope to cart. (You have a choice of blue or pink)
3) Apply coupon code: SKIPAWAY14 and the price of the rope will be taken off at checkout.
We hope you enjoy our cable speed ropes just as much as we do!
Let us know if you would like to see us carry anything else or share with us what your favourite outdoor activity is!